After completing
The Bridge on the River Kwai
, David Lean completed
his hefty and masterful
Lawrence of Arabia
. It is equally perfect as it is ambitious and long.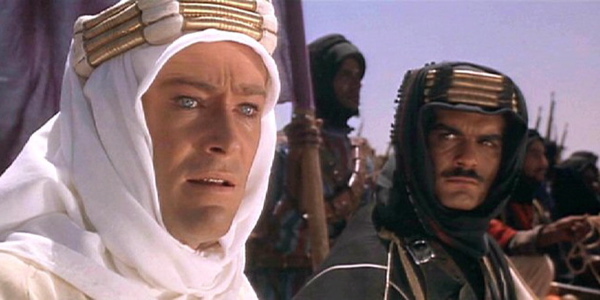 One main reason of its success is Peter O'Toole's killer debut. His performance is the greatest of all time according to Premiere Magazine. O'Toole has not one an Oscar yet, but the performance is so consistent and moody, it deserves two!
So what is Lawrence of Arabia about? It follows a section of life of T.E. Lawrence, and his tour of duty in Arabia, and uprising against the Turks. The film spans 3 and a half hours, but never bores. The film is also majestic and beautiful. The score is haunting, wise, and relevant, even though it's all the same tune.
What determined the success of Lawrence? I think it comes to the score, O'Toole, and incredibly smart writing. Every line is important and relevant to the story. There are basic characters, and a very simple army vs. army story.
The success of the writing boils down to the ending, too. Though the ending is just T.E. Lawrence entering a car, and being relieved of duty, it ends so calmly, but abruptly. Why abrupt? Because everything remains in the constraints of the story.
Before this ends, I would like a post a link to the film's majestic score. It rivals The Godfather and Raging Bull for my favorite music in film. I also would like to stress how much I want more people to see this. It spans 3 and a half hours, but it is essential teenage viewing.