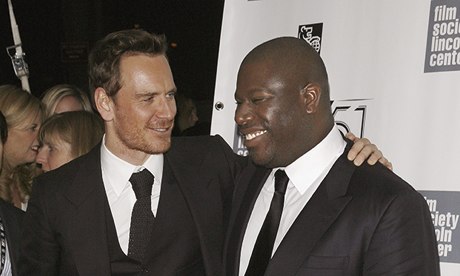 1. Steve McQueen,
12 Years a Slave
Usually, the year's best picture and best director coincide. Last year, a unique exception, will probably not be repeated. When there is a film getting an overwhelming amount of praise like
12 Years
, that could only mean that the film will win and sweep it's visionary director along with it. It also happens that many of the most recent best picture winners are from the the director's third film (
Argo
,
The Artist
,
The King's Speech
).
2. Alfonso Cuaron,
Gravity
If there was any competition to McQueen, it would most definitely by Alfonso Cuaron. Having directed
Gravity
with visual excellence and revolutionizing visual effects with his cameraman Emmanuel Lubezki, there is no way that
Gravity
could be ignored.
3. David O. Russell,
American Hustle
O. Russell might be one of the best directors of this decade, with both
The Fighter
and
Silver Linings Playbook
. Judging by the commercials and clips, the movie looks like great fun, and at the least, fun. Though the film has yet to be seen, there's no harm in counting him in.
4. Martin Scorsese,
The Wolf of Wall Street
Because it's Martin Scorsese. Predictions can change, but right now this picture looks strong and counting him out would be wrong (excuse the rhyme).
5. Joel and Ethan Coen,
Inside Llewyn Davis
I'm split between this directing duo and Paul Greengrass for
Captain Phillips
, but I think the Coens are at an advantage. Those that have seen the film and love it really do
love
it. It's hard not to count out the Coens, because they have a fanbase within the Academy. I mean, between
True Grit
and
Inception
, who should've been nominated?
Keep an eye out for:
Paul Greengrass,
Captain Phillips
The guys that liked
Zero Dark Thirty
probably enjoyed this one too. It also stars Tom Hanks and is based off a true story, so that should please the Academy too.
Asgahar Farhadi,
The Past
Don't underestimate the 25-man team at Sony Pictures Classics. They know how to get the nominations, as seen by what they've done with
Amour.
Even
A Separation
managed a screenplay nomination. This is a tight year, but anything unexpected can happen.
John Lee Hancock,
Saving Mr. Banks
This is a real crowdpleaser, and nothing can get the Academy more worked up than a crowdpleaser besides a true story.... it just happens that this film is both! What it doesn't have is name recognition. When you're a director going up against Scorsese and the Coens, you're climbing an uphill slope.