The last time I did a Best Picture prediction post was in May, when the Cannes Film Festival ended and
Foxcatcher
was still planned to come out this year. Oh the memories.
1.
12 Years a Slave
A prime release date. High acclaim. Based off a true story/ Great screenplay. Strong performances. Right now this looks like the film to beat, and one that maybe no one will come March. Did I mention that this film was based off a
true story?
2.
Gravity
In any other year, this film would be a lock for a win. However, with
12 Years a Slave
, this film is going to play second fiddle. Still, this film should be patting itself on the back for Bullock's incredible one-woman performance and the smashing box office success this film was.
3.
American Hustle
Directed by maybe the most successful director of this decade, David O. Russell. A stellar cast working the reigns and the six-minute p
review out of the AFI Fest is so far saying good things. December cannot come any sooner.
4.
Captain Phillips
Though I did not like this film as much as many other people did, you simply can't count this one out of the race. The performances by Tom Hanks and Barkhad Abdi are worthy of acclaim, and this film does have what it takes to amass the #1 votes.
5.
Saving Mr. Banks
Another Tom Hanks feature, but with 1990's Oscar champ Emma Thompson leading. This is the sweet stuff that will appeal to a certain Oscar crowd. Word out of London and AFI says that this film isn't shabby too.
6.
The Wolf of Wall Street
Is this
Shutter Island
or
Hugo
?
Casino
or
GoodFellas
? Either way, this film is hotly anticipated, and one cannot simply count out Scorsese.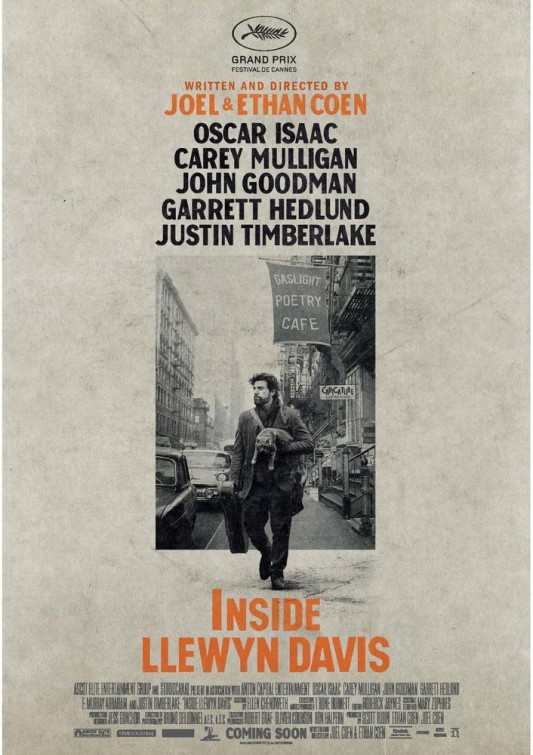 7.
Inside Llewyn Davis
A hit out of Cannes, and if
A Serious Man
managed a nom, shouldn't this one be a lock? Like Scorsese, you simply cannot count out the Coens.
8.
Her
The Academy has recognized Spike Jonze's
Adaptation
and
Being John Malkovich
, and word from NYFF says that this one is trump. It it just too crowded? Expect a screenplay nomination at least.
9.
Nebraska
This is a strong film in a strong year, but again, is it just too crowded? The chances for Dern earning an acting nomination seem to be increasingly likely, so this could go two ways: Many nominations for the film, or just the acting and screenplay nomination.
Doesn't matter, with films like these, this is maybe the strongest year in film since 2007 or maybe even 1999. Wow.
Don't count out these films though:
Blue is the Warmest Color
Expect critics groups to go gaga for
Blue
. With a 3
hour runtime and publicity between feuding actors and director Abdellatif Kechiche, this film just might get the attention necessary to warrant viewers and #1 votes. Also since this film is ineligible for the Foreign prize, there's a slim chance that the Academy might want to find a way to reward this film. Also a dark horse contender in this film is lead actress Adele Exarchopolous, a fresh face that's already been doing some campaigning on her part.
Blue Jasmine
Cate Blanchett is still the one to top for the Best Actress category, and this is also Allen's best film since
Crimes and Misdemeanors
. This is bubbling under the Best Picture pack, but Sony Pictures Classics is a mighty mouse in a lion's game: they consistently nab foreign language Oscars and last year got five nominations for
Amour.
The Butler
and
August: Osage County
Both of these films have stellar casts, despite mixed reception (I can testify about
The Butler
). These two ar films that will easily appeal to the acting branch.