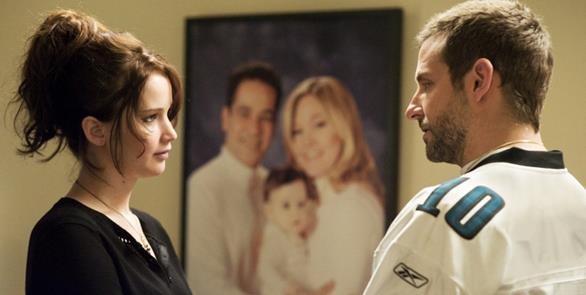 David O'Russell might be the most versatile director I've heard of. In 2004, he made
I Heart Huckabees
, a comedy of sorts. 2010 brought
The Fighter
a boxing-and-drug drama. 2012 has graced us with
Silver Linings Playbook
, a humorous film that handles its subject matter (mental illness) very well.
Silver Linings Playbook
deals with Pat Solitano, played well by Bradley Cooper. He has been diagnosed with a bipolar disorder, and his trying to rebuild a relationship with his ex-wife, who has unfortunately filed a restraining order against Pat. Pat's dad, (Robert DeNiro, in his meatiest and best part in the whole 2000's,) is addicted to bookmaking, superstition, and the Philadelphia Eagles. All of this madness is put to an end by Jennifer Lawrence's Tiffany, a sister to a friend of Pat's wife Nikki. Tiffany tells Pat that she can contact Nikki, but Pat has to dance with her in a dance competition. This threatens the failing relationship between Pat and his dad.
The script, by O'Russell himself, takes its subject matter quite lightly. It doesn't shove the mental illness idea down your throat, but instead emphasizes on Pat's suffering and issues that come with his disability. There are comedic situations dealing with Pat's parole officer and a young schoolboy trying to make a video about mental illness.
It's commonly said that a good script and a good director can get a good performance out of anyone. This is especially true with Jennifer Lawrence, in this case. She is over-the-top and the heart of this movie. Bradley Cooper, an actor I never particularly liked, was on his A-Game in this too. It's important in liking a movie to like the protagonist, and Cooper delivers. DeNiro gets a very good part, and his completely worthy of a Supporting Actor nomination. Please check out
Silver Linings Playbook
, it's not a good time at the movies, but a great one.
3.5/4 Stars