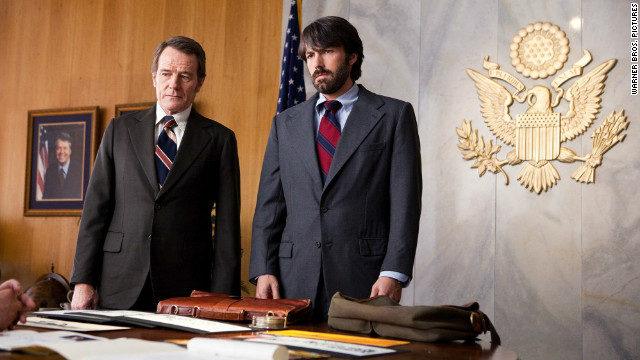 So,
Argo
just won the Producers Guild, and now I'm truly convinced it might win Best Picture at the Oscars. This is a most unusual occasion, and I'm pleased so that his is one of my big 'upsets' I was hoping for. I knew something would happen, but I am honestly still surprised the Producers liked it so much after such a shabby turnout with the nominations.
Tonight's SAG award can be another game-changer in all ways (except for
Best Exotic Marigold Hotel
). If
Lincoln
wins, we (the prognosticators) know that the film is still the contender. If
Silver Linings
wins, we know
Argo
has some competition. If
Argo
wins, the race would practically end.
Also, Megan Ellison's demand for a recount might become a reality.
Look beyond the jump for Best Supporting Actor and Best Actress thoughts at SAG:
As I've stated previously, Best Supporting Actor is probably the tightest competition at the Oscars.
Since SAG didn't nominate any
Django
boys, I'm really thinking Phillip Seymour Hoffman might take the cake. Here's why:
-De Niro (
Silver Linings
) could ride the wave of support. But he is not loved that much in the part, and the Globes failed to nominate him. He'll get a trophy in the Best Cast anyway.
-
Lincoln
support is really waning, hurting Tommy Lee Jones' chances. The reward will go to Daniel Day-Lewis' part in
Lincoln
, and that's the most support it needs,
-Alan Arkin has yet to win any prizes for
Argo
. This one won't be his first.
- Javier Bardem is great, but if the Academy's acting branch means anything, he was the only SAG guy not nominated.
THE CASE FOR HOFFMAN:
The actors like the film enough to give it three nominations at the Oscars. Three nominations, wow!
The SAG also likes Hoffman enough, they did give him a trophy for
Capote.
Jennifer Lawrence is going to win here. Her only real competition is Jessica Chastain, since Wallis and Riva are not SAG nominees. The SAG loved
Silver Linings
, hence, 4 nominations. They liked
Zero Dark
, hence 1 nomination. Support for
Silver Linings
is strong.